The priority investment period is now open for those who pre-registered, but it's not too late to register to invest when the Peterborough United Bond opens to the public on Monday 23 May.
Talking of the Bond, Club CEO David Paton was keen to stress the potential he sees in the future:
"The most exciting thing in my first few months is seeing just how much untapped potential there is. Category 2 status is going to be a game-changer for player recruitment and development, for the first team and for revenues from the transfer market. Owning the stadium is encouraging us to make exciting improvements like the new sports bar, which brings a whole new revenue stream.
The safe standing investment is crucial because we can't use the London Road terrace in the Championship anymore and we see ourselves as a Championship club and it's absolutely our aim to get back and get established there. 
And then there's the new stadium and community venue – that has the potential to transform this club. It's all super exciting and what's great about the Bond is that the supporters and the community get to be a part of making it all happen. It's a huge opportunity to be part of our journey."
The Peterborough United Bond has been designed to enable supporters to play their part in creating the exciting next chapter for the Club, while benefiting from a return on their investment. The key terms of the Bond are as follows:
• 9% interest per annum
• 15% cash bonus if PUFC is promoted to the Championship by 2026/27
• Eligible for tax-free returns through an Innovative Finance ISA
• Minimum investment £500
Exclusive Bondholder Privileges
As well as an annual interest payment and the possibility of a major bonus if the Club is promoted, a unique set of exclusive, money-can't-buy Bondholder Privileges are being offered at different investment tiers.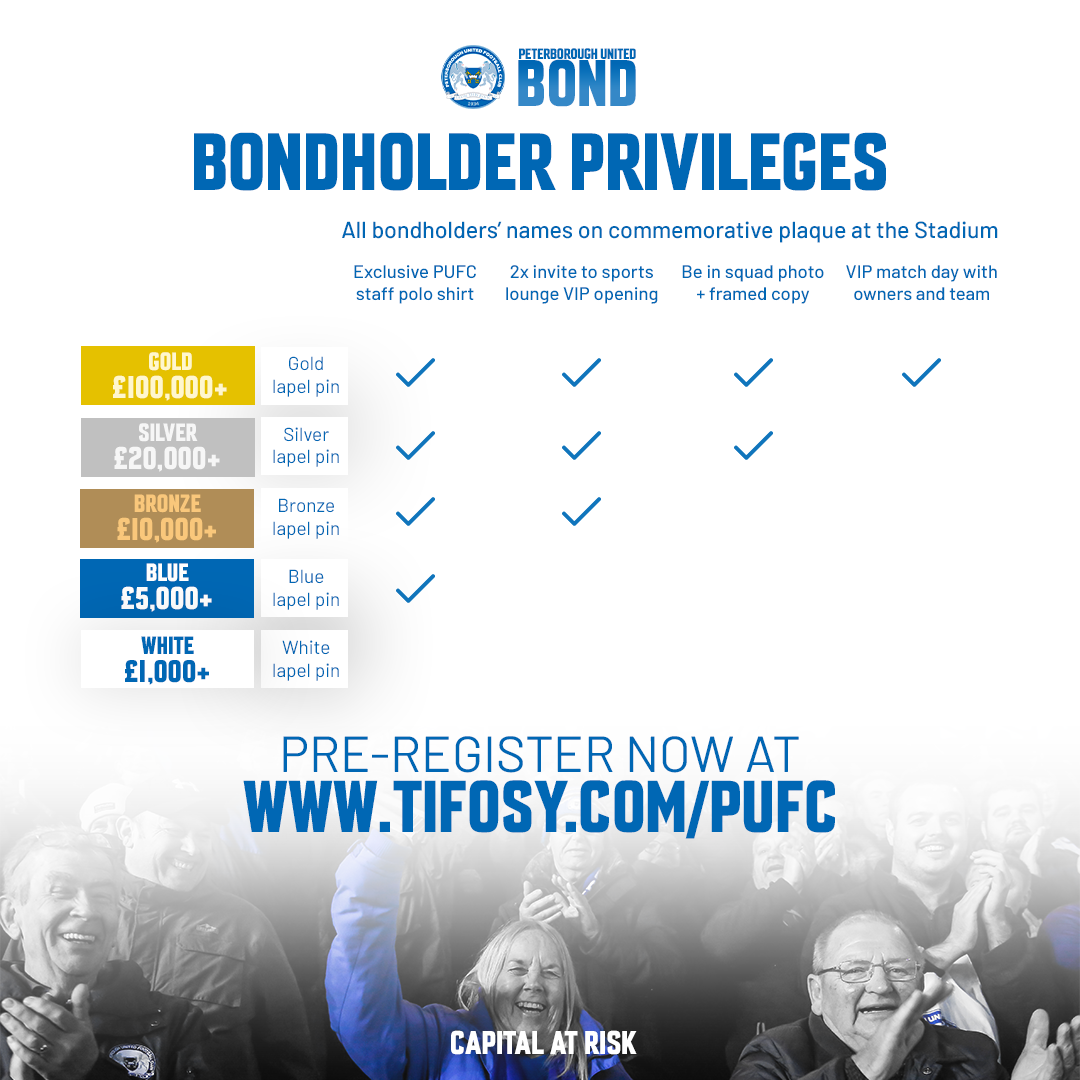 Register now at www.tifosy.com/pufc to receive access to invest as soon as the investment page opens.
Please note that investment in a security of this nature, being an illiquid investment, involves a substantial degree of risk and returns are not guaranteed. An explanation of the risks and the full terms and conditions is available at www.tifosy.com/pufc.
Approved as a financial promotion by Tifosy Limited which is authorised and regulated by the Financial Conduct Authority (no. 717605).