The football club have issued a detailed document for supporters to read ahead of a return to the Weston Homes Stadium.
The club are looking forward to the return of up to 2,000 supporters (as per Tier 2 regulations) at the Weston Homes Stadium, however, to adhere with the new Covid-19 protocols, it is imperative that those attending fixtures follow the below guidance and regulations and that includes supporters from Tier 3 areas not being permitted to watch games at the stadium.

Our first scheduled fixture with supporters is the Papa John's Trophy second round tie with West Ham United under 21s on Tuesday 8th December (7pm). It is important to note that this fixture is essentially our 'pilot fixture'. A number of clubs were able to complete their 'pilot' game back in October for up to 1,000 supporters.

As per all home fixtures moving forward with the 2,000 capacity, the stands that will be open will be the Deskgo Stand and the BGL Family Stand.

The Deskgo Stand will host 748 socially distanced supporters. The South Stand will host 1,132 socially distanced supporters. (This includes the Executive Boxes and Noel Cantwell Suite for hospitality). Up to an additional 120 supporters will be hosted in the Caroline Hand Executive Suite.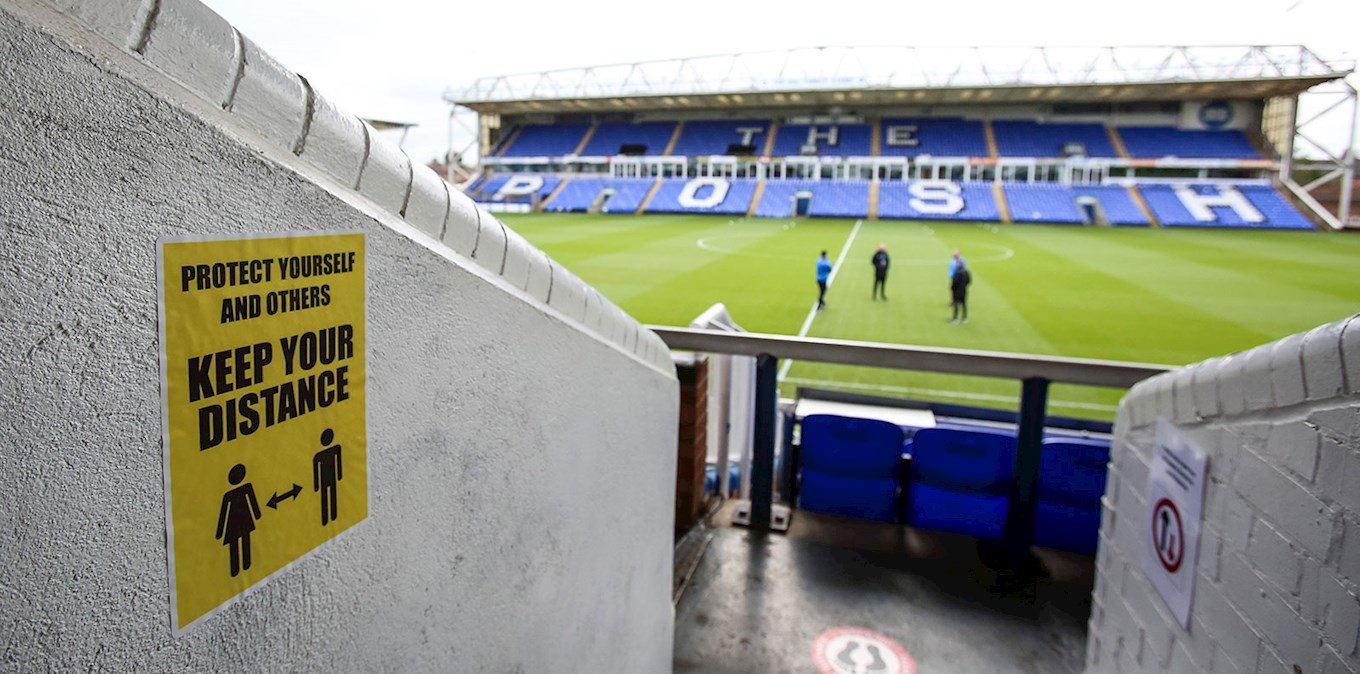 So, if you secure a ticket for the West Ham fixture, or the future Sky Bet League One fixtures through the season ticket ballot, what will the Weston Homes Stadium look like on arrival and what do you need to do to ensure your safety and the safety of others in attendance?

ENTRY POINTS
For the Deskgo Stand, entrance will be limited to turnstile numbers 29 and 32 and 33 and 34 and this has been done to maximise social distancing.

For the South Stand, entrance will be different to what you would normally expect. Supporters will enter the stadium via turnstiles 24, 25, 27 and 28 and to gain access to those turnstiles, you will need to enter via the bottom gate on Glebe Road (this will be signposted) or by walking around the back of the Deskgo Stand.

For the Caroline Hand Executive Suite, supporters will enter through the Caroline Hand Executive Suite entrance, which is essentially 15 metres from the hairdressers.

There will be an arrival time on your eTicket - please make sure you arrive within this time period. 

BEFORE THE GAME
Please assess your personal risk relative to your own circumstances with attending a football game. I.e., please take responsibility for your own health and if you are experiencing any symptoms, please do not attend.

Purchased tickets must not be passed to another person.

You must comply with track and trace, i.e. sign the NHS app on arrival at the stadium.

Please ensure that your personal details are up to date when you purchase a ticket.

You will be requested to wear a face covering for the entirety of your attendance regardless of whether you are indoors or outdoors (unless you have an exemption pass, which you must bring with you or consuming food or drink within hospitality areas).

All payments must be made contactless.




MATCH DAY
Please arrive in good time for your allotted time slot, based on the stand that you are watching the game from. 

You are advised, where possible, to walk to the stadium, minimise public transport and use your own vehicle within your bubble/household where possible.

You are advised to plan your day to minimise disruption to others and steer clear of congregating in groups.

Please be aware that no food or drink will be available to purchase within the stadium, except within hospitality areas. This will be constantly reviewed.

There will be refreshments available outside of the stadium within two areas within the footfall of the stadium.

Please make sure that any litter is disposed of in the bins provided.

Social distancing will be in operation, please avoid close contact with other fans from outside your family or social bubble.

A temperature check or test may be requested upon entry.

Please do not bring any additional bags to the stadium, all bags will need to be searched, which could cause delay.

Additional signage and PA Announcements will be made, please listen and look for those announcements to ensure your safety.

Hand sanitiser will be available at every entrance point via the stewarding team.

Please proceed to your designated seat on arrival, without congregating or milling in the concourse or stairwell.

If possible, remain seated throughout the match, however we fully understand that you may wish to move to keep warm! Try to ensure that you are not moving at the same time as others not within your bubble/household.

Please only sit in allocated seating as stated as per your ticket. Do not move to any other seat. The seating plan is in line with Government guidance and has been created with the help of crowd management specialists and is designed for your safety. If you are unsure, please ask a steward.

When moving around, please avoid face to face contact with other supporters.

Please maintain good hand hygiene throughout the match.

Whilst we understand that the following will cause some discussion, this has been issued as part of the guidance and we have to issue it; Supporters should be reminded that singing and shouting increases the risk of transmission.

You must refrain from touching the match ball, where possible. If it enters the stand in which you are situated, a member of the ball sanitising team will come and retrieve it, sanitise it and return it.

If you develop Covid-19 symptoms while inside the stadium, please notify a steward immediately.

Please be respectful to other supporters, stewards and match day staff and please be aware that all of your actions will be monitored throughout.




POST MATCH
Departure from the stadium will be managed block by block.

Please follow steward's guidance and tannoy announcements.

Do not approach any players' or management staff before, during or after the game.

Do not congregate in stairwells or the concourses following the game. Please leave the stadium socially distanced and safely.

The above guidance has been issued for your safety and the safety of others. We are pleased as a football club to be able to welcome a limited amount of supporters back to the Weston Homes Stadium, but your compliance with the guidance is essential if we are to continue to welcome fans back in the future.

It has been a challenging time for all. The staff have worked tirelessly to put these protocols in place so that we can welcome supporters back. Football without fans is not the same product. You have been missed. Hopefully, there is positive news on the horizon and we can look forward to 2021 with optimism.

Thank you for taking the time to read this guidance, please ensure anyone attending the Weston Homes Stadium does the same.



DOWNLOAD COVID-19 CODE OF CONDUCT
(Updated 17th December 2020)